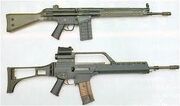 The Heckler and Koch G36 is a German 5.556x45mm assault rifle. It replaced the G3 rifle. It is gas operated and fires a 30 round magazine or a 100 round C drum.  
The G36 uses a closed rotary bolt. It is interchangeable with most of its family. The G36 uses a free floating barrel which is attached by a nut. Th3 G36 does not require tools to disassemble it. 
Ad blocker interference detected!
Wikia is a free-to-use site that makes money from advertising. We have a modified experience for viewers using ad blockers

Wikia is not accessible if you've made further modifications. Remove the custom ad blocker rule(s) and the page will load as expected.